What is Physical Identity and Access Governance?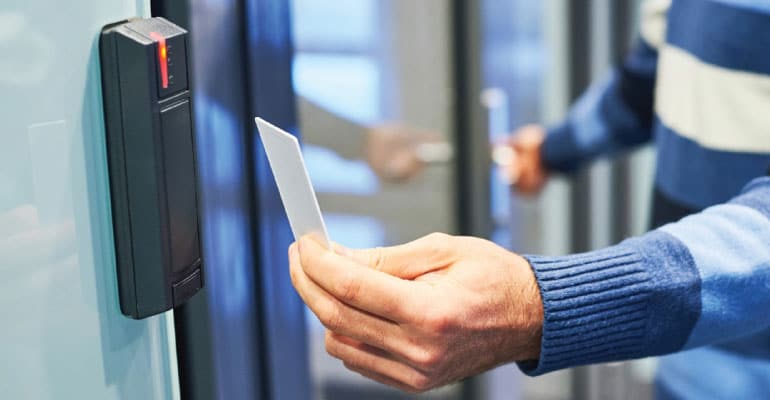 What is Physical Identity and Access Governance?
Today even a medium-sized business can have physical entry points to operational areas that require security clearances, training, and certifications to meet Government regulations. In many cases, these complex access security decisions are still managed manually. These types of processes put organizations at risk of errors that result in security breaches and compliance failures that ruin reputations and cost commercial contracts.
In this article we will explain what Physical Identity and Access Governance is, the benefits it delivers and how RightCrowd Access Analytics helps in this area.
WHAT IS PHYSICAL IDENTITY AND ACCESS GOVERNANCE?
Physical Identity and Access Governance enables organizations to proactively identify risks and compliance across the physical access of every employee, contractor, vendor and visitor that has access to their facilities. These solutions use advanced analytics to monitor physical access, privileged access, policy compliance, the efficacy of access management processes and deliver user access reviews.
Physical Identity and Access Governance solutions identify and help mitigate physical access risks in a business.
These solutions offer organizations visibility into the access rights people have, so they can better manage who has access to what areas, and when. It empowers organizations to enhance their security posture, and meet increasing audit and compliance demands, at scale.
It allows organizations to not only define physical access management policies, but to ensure their access management processes and systems are enforcing them.
WHAT ARE THE BENEFITS OF PHYSICAL IDENTITY AND ACCESS GOVERNANCE?
Physical Identity Access Governance enables companies to:
Improve organizational security
Identify and mitigate physical access related risks
Develop role-based or attribute-based access policies for improved physical access management
Streamline compliance processes
Deliver fast and accurate audit and compliance reporting
Monitor compliance with government regulations and industry standards and
Enable employees, contractors, vendors and visitors with the right access based on the policies that apply to them
RIGHTCROWD ACCESS ANALYTICS
RightCrowd Access Analytics enables organizations to identity physical access risks and compliance issues across people, teams, facilities and areas. Its powerful analytics engine enables organizations to evaluate access compliance across people, physical areas and the operating systems or plant they have access to.
The solution automates monitoring of privileged physical access, policy and regulatory compliance, access management processes failures and user access reviews.
RightCrowd Access Analytics ensures that organizations access management policies and processes are working and enforced.
RightCrowd Access Analytics delivers:
Proactive access management policy enforcement
Continuous physical access risk monitoring
Privileged and risky access discovery
Streamlined compliance reporting
Quick and accurate access investigations
To find out more about RightCrowd Access Analytics contact us.