Case Study: RightCrowd & Export Finance Australia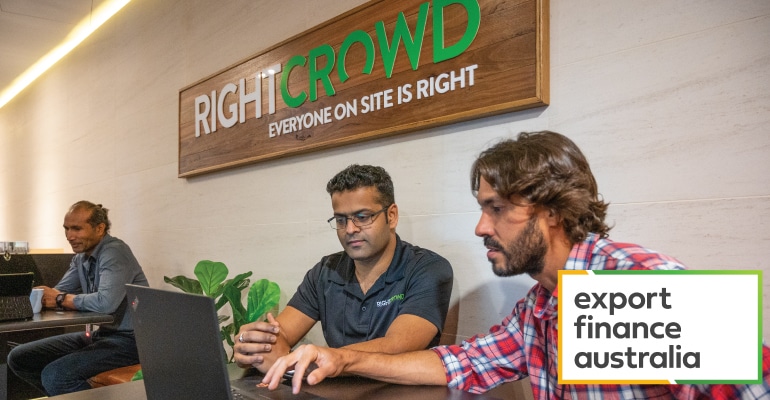 Case Study: RightCrowd & Export Finance Australia
Growing from a local tech start-up to an ASX listed global security industry leader, RightCrowd has gone from strength to strength operating in the export market. However, during a scale-up, securing finance to support an export transaction can be difficult. This is where Export Finance Australia was able to support the journey.

Founded in 2004, RightCrowd provides safety, security and compliance solutions to businesses across a broad range of industries, including financial services, mining, industrial and the high-tech market.

RightCrowd offers products for visitor management, workforce access management, presence control, access analytics and contact tracing wearables. The team began deploying solutions at some of the largest companies in the world and rolling out systems globally between 2012 and 2017.

By 2021, the business had grown to over 150 employees across offices in Seattle, New Jersey, Belgium, The Philippines and the Gold Coast, Australia. Some 85% of RightCrowd's revenue at this time was coming from international markets and 67% from the North American market alone.

While RightCrowd has seen great success from exporting, it has not come without its challenges. "Probably the biggest challenge we had was lack of capital," Peter Hill, CEO at RightCrowd said. "We were a bootstrap company, and trying to export without funding in place, and trying to land some of the biggest customers in the world, is not particularly easy."
Exploring finance opportunities
RightCrowd's journey to date has not been traditional, nor have the finance solutions needed to support it.

As a company that doesn't bring with it any tangible assets for security, RightCrowd typically didn't have any options for lines with the banks. To finance the business, the team raised capital in the private markets, made the most of multiple government grants available including research and development and the emerging market development grant (EMDG).

After moving into the manufacturing space to produce contact tracing wearables, Peter decided to explore what solutions might be available with Export Finance Australia. Carrying raw materials and stock for manufacturing requires additional working capital; finding the right finance solution to support these operations is crucial.
Choosing the right partner
The global pandemic impacted the business in varying ways. Some areas slowed, while others grew. During this period, RightCrowd won another large contract with a global tech giant and needed support to deliver the project. This is where Export Finance Australia's help was key.
"Working with Export Finance Australia was really something we felt was more of a partnership than most of the outfits that we came across, and we were very happy to move ahead with that," James Stewart, CFO at RightCrowd.
During a period of uncertainty in the market, the finance we provided gave RightCrowd the cashflow to mobilise against one of its largest projects.

Challenges and opportunities in uncertain times
Looking ahead, RightCrowd is set to build on its impressive portfolio of customers around the world and scale the business further.

"We've got some great customers and deployments around the world, but we're still relatively small," Peter said.

"We're wanting to move to the next stage of our business, where we've raised some additional capital. It's really about deploying some of that capital in the appropriate areas to allow us to mature out the business, particularly around the sales and delivery capability, and getting deeper into the market."
"The support from Export Finance was critical for us. It allowed us to mobilise against one of our largest contracts, during what was a difficult period, and they gave us the cashflow that we needed." James Stewart, CFO, RightCrowd
Case Study Source: https://www.exportfinance.gov.au/resources-news/case-studies/rightcrowd/