A New Approach to Managing Physical Access Rights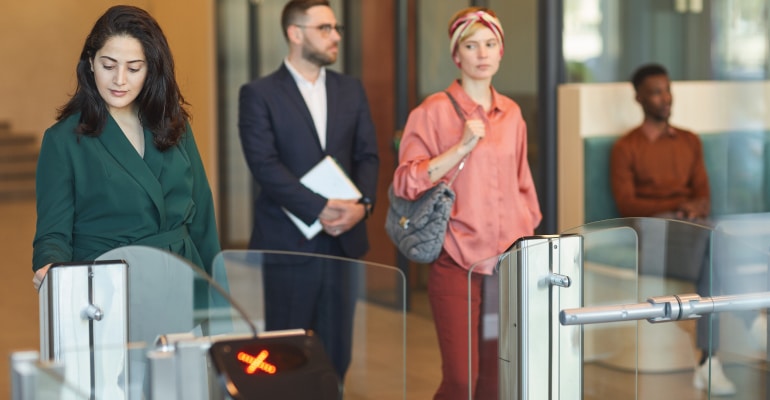 A New Approach to Managing Physical Access Rights
Many workers have fundamentally changed how often they go into the office. Brought on by working from home arrangements, this trend has forced HR, facilities and security managers to reconsider how they keep their people safe, and how they deliver secure and compliant physical access to their workers, visitors and contractors.
This article examines the challenges of manual access management processes for hybrid work arrangements and how RightCrowd solutions can help.
Hybrid working is here to stay
The hybrid model of working implies that some workers will come into the office regularly, but not every day. Many hybrid teams and employees are now working in the office one week and at home the next. Alternatively, they might only access the office as required for meetings, training, or projects.
It requires that a worker is enabled with appropriate physical access to do their job, for the period they will be in the office. It follows that when those workers are not in the office, their physical access should be revoked to maintain safety and security.
This can be challenging for Security Operations teams who often rely on manual requests to make user access changes in the first place. Manual access management processes quickly become an obvious security and compliance risk. Many workers and contractors will maintain full access privileges to potentially secure facilities, assets and intellectual property, when they won't need continuous access.
A manual approach to Physical Access Management is time-consuming, error-prone and a security and compliance risk.
Organizations continue to face strict safety, security and compliance obligations as they relate to access management, and failure to comply and enforce policies can lead to fines, loss of certification or loss of contracts.
Hybrid work arrangements are pushing companies to consider the implementation of least-privilege physical access, and modern physical identity and access management platforms to get back in control of identity lifecycle management.
Optimize Workplace Safety, Security and Compliance
RightCrowd ensures that everyone onsite has safe, secure and compliant physical access. Integrating HR, learning management or ERP applications allows RightCrowd to enforce policy or regulatory compliance through security systems.
RightCrowd Workforce Access Management delivers:
Streamlined access management


Enable automated access management processes, integrated with your access control system, to enforce policy based access for every employee, contractor and visitor on-site.
Improved safety, security and compliance


Easy and secure, self-service tools to efficiently manage physical workplace access across during the worker lifecycle's engagement.
Company-wide policy enforcement


Enhance your physical access security system to manage the safety and compliance of your visitors and workers on one platform.
Enterprise scalability


Deploy the same solution across the city, the country, or the globe with a system that delivers the unique security, language or compliance requirements in each location.
In 2021 managing physical access has gotten more complex and industry leaders are using RightCrowd Workforce Access Management solutions to respond to new safety and security requirements and improve compliance across their workplace.
Learn More
Contact a RightCrowd security expert today to learn more.