Returning to the Office? Get in control of Physical Access.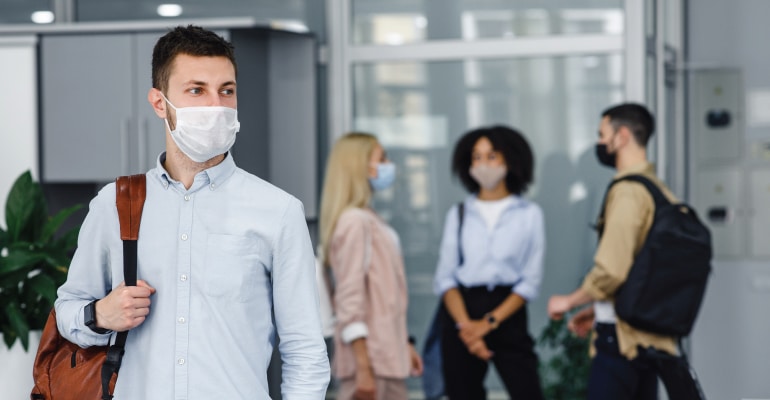 Returning to the Office? Get in control of Physical Access.
With health restrictions easing, many Facilities, HR and Security Managers, have workers returning to the office firmly on their minds. However, as Bart Vansevenant, General Manager of New Products at RightCrowd notes, with companies having made remote working possible and highly effective, organizational leaders are now asking for more than a traditional work environment'. Where in the past office were divided up into team-based workspaces, in 2021 organizational leaders have a much more sophisticated view of what they want from their real estate assets.
For many teams, the idea of a permanent desk now seems outdated. Workers want to come into the office because they have objectives to accomplish that they cannot achieve from home or over Zoom. They no longer require permanent physical access, often accumulated over the length of their tenure and need access to specific areas only for a shorter duration.
Mr Vansevenant continues I am now seeing something drastically different. Companies are asking their people to request access, and nominate what they need to do. This is so the company can match the real estate asset to the person's requirements, and lock in security and compliance. People need collaboration spaces or larger spaces for workshops of shorter duration. They then complete the tasks and then head back to their home office for the next phase of work. And it feels much more like a shared office space than a traditional office' he says.
Hybrid working – the challenge for physical security
This new way of working is now forcing organizations to apply the principle of least privilege and Zero Trust to physical access, across the entire workforce.
For physical security teams this hybrid model of working, and the attendant security and compliance risks, has highlighted the potential safety, security and compliance risks of workers with unrestricted physical access.
At the same time, it has highlighted the need for physical access management process and system improvements with the potential to streamline security operations, improve security and compliance, and keep people safe.
No surprise that many organizations are now looking for new solutions to step up their control of physical access based on vaccine status, health checks, business policies and available real estate.
Now you can get in control
RightCrowd gives every worker, contractor and visitor the toolkit to be safe, secure and compliant when they come into the office.
NEW: Discover our free checklist for a safe, secure and compliant return to the workplace
With RightCrowd you can ensure that every worker and guest has exactly the right physical access they need to do their job, every time they come into the work environment, here is how:
Start with visibility of physical access

Gain a complete view of physical access across your facilities, offices and leased spaces regardless of the underlying security systems with

RightCrowd Access Analytics

.
Get in control of physical access



RightCrowd Workforce Access

allows your organization to establish an efficient and secure way to update your employee's and contractors' physical access without creating an unmanageable administrative burden, or compromising security and compliance.
Manage visitors wherever they are in your workplace



RightCrowd Visitor Management

creates personalized visitor management for every type of guest site with inductions, NDAs, contactless kiosks, security wearables and seamless integration with Physical Access Control.
Make access permission and compliance visible



RightCrowd Presence Control

leverages existing building access cards and adds a RightCrowd Digital Badgeholder, enabling both human and automated validation of security permissions, access compliance and contact tracing for everyone present.
In many organizations, it has been commonplace for employees and contractors to accumulate physical access with tenure. The longer someone has been around, the more areas they have access to. The new way of working has exposed these practices as a safety, security and compliance risk.
Contact us to find out how we can help you get in control of workplace physical access management.