Enterprise Visitor Management System – Demo
RIGHTCROWD INTEGRATES WITH
Visitor management to meet your security and compliance needs.
TRUSTED BY THE FORTUNE 50
RightCrowd ensures the safety, security and compliance of visitors through your buildings and facilities.
Have confidence that only approved visitors can gain access to your site with inductions, NDAs, contactless kiosks and peripherals. The solution seamlessly integrates with Physical Access Control and many enterprise systems, while giving your visitors the best experience.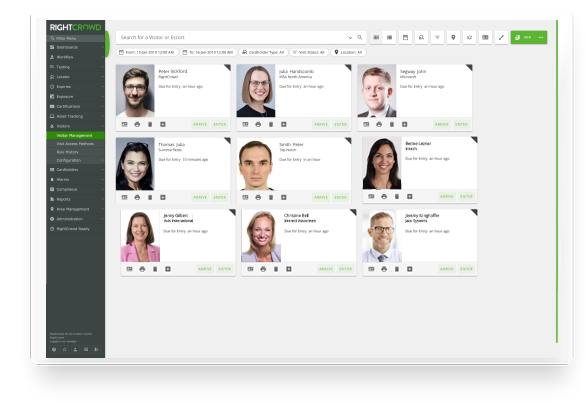 Why choose RightCrowd Visitor Management?
17Years' Experience
Your trusted partner in safety, security and compliance
About RightCrowd:
RightCrowd (ASX: RCW / OTCQB: RCWDF) is a global provider of safety, security and compliance solutions that manage the access and presence of people. Combined with our long-standing alliances with major security and business systems vendors, our award-winning solutions have helped organizations of all sizes to redefine their security and compliance programs, delivering improved outcomes, at lower cost.
Trusted by the world's most respected companies, we have successful deployments in industries covering healthcare, critical infrastructure, resources, technology, manufacturing and financial services.