Modern Presence Control
RIGHTCROWD PRESENCE CONTROL
Security wearables for the new workplace
RightCrowd Presence Control leverages your existing building access card and enables both human and automated validation of security permissions and safety requirements for everyone present.
Make physical access and presence visible
RightCrowd Presence Control introduces a new approach to managing physical security in the workplace. Our security wearables extend and reinforce traditional physical access control through applications that further reduce risk and improve safety in a way that was not possible before.
With traditional badges you cannot be sure that people around you are authorized to be there. There could be tailgaters, former employees with expired access rights, and others, any of whom could pose a threat. RightCrowd Presence Control makes authorized presence visible to everyone. It instantly establishes trust between co-workers, visitors and contractors without them actually having to know each other.
The digital badgeholders also provide several other unique applications that further reduce risk and improve safety in a way that was not possible before.
Enabling unique security and safety applications
Get in control of access risks

Tackle common access risks caused by tailgating, credential sharing, anonymous contractor badges and unhosted visitors. RightCrowd Badgeholders provide employees, contractors and visitors with a digital identity and an active credential that allows continuous visual validation that people are authorized to be present in that area at that time. People that do not comply with your security, safety and compliance requirements will instantly be visible to everyone else around them.
Create flexible hybrid workplaces

Hybrid working is here to stay. Organizations are changing their offices to accommodate this new way of working. New systems are rolled out for employees to request office and resource access. You can do all of this without sacrificing safety and security.
RightCrowd not only makes authorized presence visible, but it also provides real-time presence data to manage the capacity of your facilities.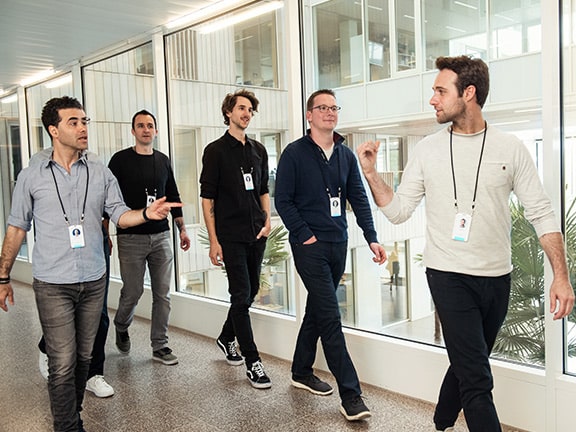 Enforce safety, security and compliance
Traditional physical access control solutions assume that access rights can statically be determined in advance. In reality, you have a myriad of safety, security and compliance policies that determine the conditions for someone to be present at a certain place and time.
Wouldn't it be great if you could have a continuous validation and that all those requirements were met by all people present?
Extend your security and health, safety and environment teams
Protecting the organizations should not just be the job of the physical security and HSE teams. What if you could extend your team and make every employee part of it?
By making safety and security visible, everyone on site will literally see whether the people around them belong. Empower your entire workforce to help protect your organization.
ENFORCE ACCESS PERMISSIONS, EVERYWHERE
Deployed within days, easy to use
To request further information, contact us via our web form.
Transform access control into presence control.
Visualize who belongs and who does not
Engage your entire workforce in protecting your organization
Ensure continuous validation that everyone on site is right
[tm_contact_form_7 id="16212″]
NEWS & BLOGS
Explore our latest articles
SOX Audits no longer need to be so disruptive for your organization, achieve continuous compliance, and know every day the right people …
An automated visitor management system is a digital system designed to manage the flow of visitors in a particular setting, such as …