Presence Control
PROTECT YOUR ORGANIZATION'S SENSITIVE AND HIGH RISK AREAS
Digital badgholder to make physical access
and presence visible
RightCrowd Presence Control introduces a new approach to managing physical security in the workplace. The technology validates security permissions by making them visible.
The solution leverages your existing building access card and adds a RightCrowd Digital Badgeholder, enabling both human and automated validation of security permissions for everyone present.
Implementing RightCrowd Presence Control will make unauthorized people entering a restricted area visible to everyone present. It instantly establishes trust in areas with coworkers, visitors or contractors without them actually having to know each other.
You can also implement business rules, such as zone access control, contact tracing, visitor group tethering or evacuation and mustering.
Ensure only authorized persons are present

Prevent access to sensitive or restricted areas. Create invisible proximity perimeters to monitor your staff and visitors entering or exiting any set area of your workplace.
This allows the creation of secure areas without building hard perimeters.​
Know who was present when and where by area
Active RightCrowd Badgeholders are counted by location.​ The Badgeholder counts can be fed into occupancy or building management systems​.

This allows Security to know who was present in an area.​

Ensure visitors respect your security access policies​
Visitors receive a RightCrowd Badgeholder and unauthorized visitors become instantly visible to everyone ​present.
Optionally, the solution allows tethering visitors to their host, enforcing host/escort policy.
Avoid a shutdown of your operations​​

RightCrowd Badgeholders provide a continuous visual reminder to respect safe social distancing.​
You can know who was in Close Contact with infected persons and​ for how long.
The privacy and distance settings can be configured to match legal and policy requirements.​
SOLUTION COMPONENTS
Optimize your next layer of security
RightCrowd Gateway (PoE) for activation, ​monitoring and tracking 
RightCrowd Presence Control Core ​(choice between US, EMEA and APAC Cloud)​
RightCrowd Charging Station ​(optional) 
RightCrowd Mobile Application
Integration with​ Physical Access Control System or Visitor Management System​
Automated presence control system that respects workplace privacy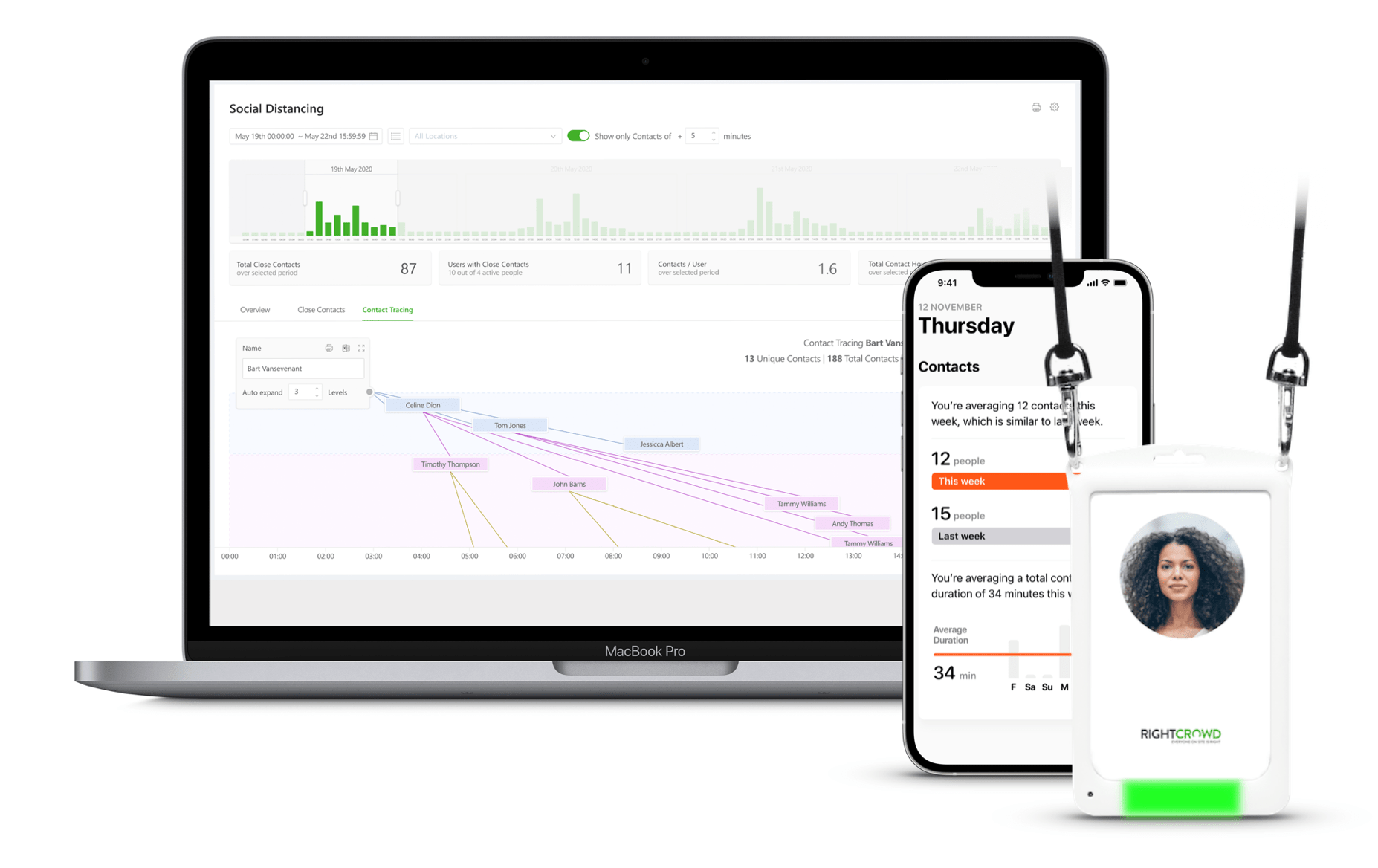 Optimize your next layer of security
Get a Demonstration
To request further information, contact us via our web form.
Ensure that everyone present in the workplace is meant to be there. Order the right solution for your business today.
Trusted by the Businesses of all Sizes
18Years' Experience
Your trusted partner in safety, security and compliance
RightCrowd (ASX: RCW / OTCQB: RCWDF) is a global provider of safety, security and compliance solutions that manage the access and presence of people. Combined with our long-standing alliances with major security and business systems vendors, our award-winning solutions have helped organizations of all sizes to redefine their security and compliance programs, delivering improved outcomes, at lower cost.
Trusted by the world's most respected companies, we have successful deployments in industries covering healthcare, critical infrastructure, resources, technology, manufacturing and financial services.
RIGHTCROWD NEWS
Explore our latest articles
Explore our
RightCrowd News
for valuable insights, updates and thought leadership on industry best practices in safety, security and compliance management trends.
For many teams, the idea of a permanent desk now seems outdated. Workers want to come into the …
Read more