Visitor Management
RIGHTCROWD VISITOR MANAGEMENT
Visitor Management for the Enterprise
Give your security, facilities and operation teams the tools to manage every type of visitor or contractor at every stage of their visit.
IMPROVE YOUR VISITOR OPERATIONS
RightCrowd Visitor Management
The leading enterprise visitor management system trusted by the Fortune 50.
RightCrowd Visitor Management transforms your lobby operations to ensures the safety, security and compliance of visitors through your buildings and facilities.
Have confidence that only approved visitors and contractors can gain access to your site with automated pre-registration, site inductions, NDAs, contactless kiosks and peripherals.
The solution seamlessly integrates with Physical Access Control and many enterprise systems, while giving your visitors the best experience and a single view of every employee, contractor and visitor on site.
RightCrowd Visitor Management welcomes visitors with an experience that aligns with your brand through processes that make each visit safe, productive and memorable.
Smart visitor pre-registration
Pre-arrival site inductions
Visitor insights and intelligence
Integration with other systems
Supports kiosks and peripherals
Solution Features
Streamline your visitor management processes
Is it time to upgrade your Visitor Management system?
Get our free checklist with comprehensive features on making a secure, efficient visitor management system for your workplace.

Ensure your visitors are
authorized to be
in your workplace
Automate site inductions, training requirements and physical access approvals to ensure that every visitor or contractor is safe and authorized to be there.
Visitor self-service and smart pre-registration
Enhance your physical access control system (PACS) by ensuring compliant on-boarding, off-boarding and cardholder access requests.
Remove the guesswork around visitor status and location with a dashboard view of visitors due to arrive, that are on-site and overdue to exit.
Personalized visitor access
Reduce administrative burden by allowing your visitors to self-register and badge themselves in.
RightCrowd Visitor Management supports a range of self-service kiosks and peripheral devices, geared to match your unique business and identification requirements.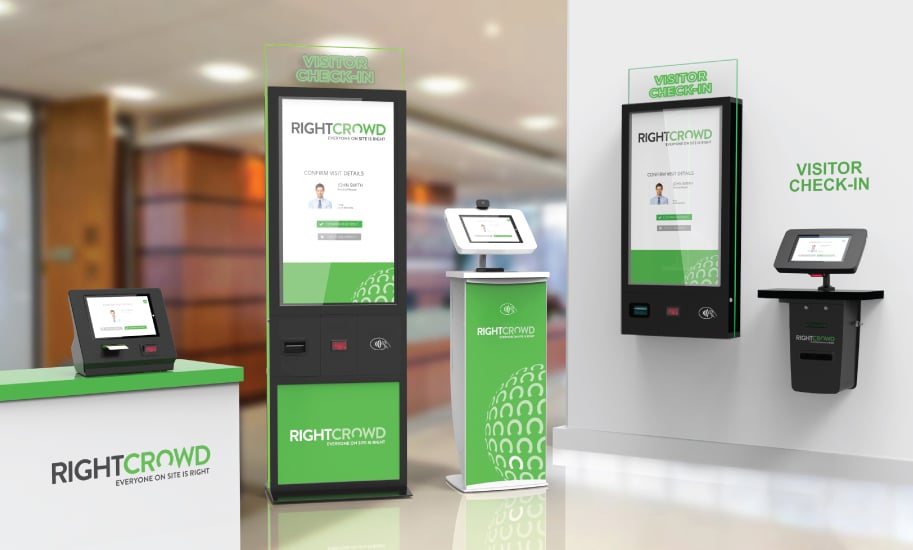 Manage visitor badges and sign-in
Enhance your physical access control system to provision visitor cards with only the physical access they need.
RightCrowd Visitor Management provides real-time and historical data for people on-site, both past and present.
All your systems working seamlessly together
Integrate all systems relevant for making good access decisions with RightCrowd. From Physical Access Control, over Active Directory and HR, to Learning Management and ERP, RightCrowd helps connect your systems and automate your processes to improve safety, security and compliance in your organization.
IMPROVE YOUR VISITOR OPERATIONS
Manage every type of visitor, at every stage of their visit
RightCrowd Visitor Management
Get a Demonstration
To request further information, contact us via our web form.
Please fill out our contact form to help us understand your needs better. Our experts can answer your questions and help you to streamline your visitor management processes today.
Trusted by the Fortune 50
Enforce security, safety and compliance policies
Enterprise visitor management solutions differ from others as they are purpose built to address an increasing number of visitors and physical security …
The process of manually off-boarding employees is complex and error-prone. Modern software solutions reduce risk & save time, by helping …